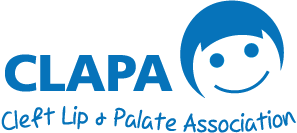 Why choose us
There are so many great charities that you can support, but at CLAPA we are proud of the huge impact we are making as a small national charity. The challenges of the cleft community is being elevated to a whole new audience due to the amazing support and publicity that our corporate partners are creating.

Our dedicated and talented fundraising team will work closely with your company to develop a programme that is tailor made to suit your employee's and company's needs.
To make our partnership a success we promise you:
A dedicated manager to develop a tailored fundraising plan to meet the needs of all your employees – from armchair supporters to adrenaline junkies.
We will work closely with you to ensure involvement and commitment throughout your organisation.
Help you create a tangible target that will help CLAPA deliver its services to the UK community.
We will help you develop fundraising ideas, volunteering opportunities and if your staff have skills that could make us more effective then we would love to hear from you.
We will provide a launch to your staff, providing a clear visual message of our work and how it relates to families across the UK – the picture above shows staff from Crown Worldwide experiencing what it is like to have a cleft using straws in an experiment.
We will work with you to agree a targeted media plan to ensure maximum awareness and publicity for your fundraising efforts – nationally and locally.
A supply of various fundraising materials from leaflets, banners, to collecting cans to merchandise and running vests to use at your activities.
Finally, we promise you FUN – FUNraising always gets the bestest results!
Please contact the fundraising team today, they will be delighted to hear from you: fundraising@clapa.com