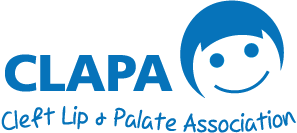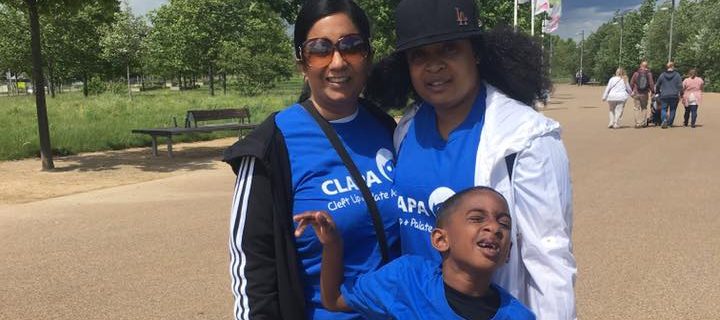 Step Up for CLAPA with this feel-good fundraising challenge!
Wherever you are, whatever the weather, you can show your support for our work by lacing up your trainers and getting your steps in. Not only will you help us reach hundreds of families and adults in need each year by funding our vital services, but you'll be joining in with our UK-wide efforts to raise awareness of cleft by telling your story.
Getting Started
Choose your challenge. How long do you want to challenge yourself, and how many steps will you try to hit? You could decide on a big target for Cleft Awareness Week 2022 (like 100k steps between the 7th – 15th of May) or a daily target (like 15k steps a day throughout May). You could even do the challenge as a family or group of friends and add up your step counts to a group target! Even just 10 minutes of walking each day has a positive impact on your health, but whatever your target, make sure it's right for your ability and fitness level.
Sign up! Fill in the form to receive a fundraising pack from us with your very own CLAPA t-shirt, CLAPA wristbands, and a card you can use to launch your fundraising page.
Set up your fundraising page.  Visit our 'Step up for CLAPA' campaign on JustGiving, and click on 'Start Fundraising' to get going. We've got loads of tips on how to fundraise through Just Giving and Facebook, and our fundraising team will be on hand to help you. Upload a snap of you in your CLAPA t-shirt to make it pop, and make sure you tell everyone about why you're fundraising for CLAPA. Check out our storytelling tips here.
Get stepping. Rack up your step count, and post daily or weekly screenshots, photos or even just text updates on your fundraising page to show everyone you're sticking to your targets. Updating regularly like this will mean people are more likely to donate and will learn even more about cleft and CLAPA while they do so.
Celebrate! Marvel at how far you've come and send out a big thank you to everyone who donated to your fundraiser. This is a great time to remind them all why you decided to do this in the first place and educate your friends and family about cleft lip and palate. When you've completed your fundraiser, we'll send you a CLAPA medal in the post!
Top Tips to Up Your Step Count
Walk on the spot while brewing a cuppa, brushing your teeth or doing the dishes – you'll be amazed at how quickly it adds up!
Get out for a lunchtime stroll, and change up the route to keep it interesting. It's a great chance to take the 'wrong way' home and explore your local area a little.
Need to make a phone call? Do it on the move, whether it's around the park, garden or living room.
Driving to the supermarket? Park a little further away than usual and use the extra distance to stretch your legs.
Sign Up
Sign up today and you'll get:
A CLAPA t-shirt
2 CLAPA wristbands (one adult and one child-sized)
A CLAPA keyring
A CLAPA pin badge
A postcard with space for you to write your challenge so you can take a photo and launch your fundraising page.
If you have any questions or need any help signing up, get in touch with our fundraising team at [email protected]
Other ways to Step Up for CLAPA
If step count challenges aren't for you, there are lots of other ways you can 'step up' and raise funds for CLAPA at home, helping us to be there for everyone who needs us around the UK. Check out our 'Get Inspired' portal for more information and to read lots of brilliant and inspiring fundraising stories from the CLAPA community.
Our friendly fundraising team are also on hand to help think up ideas, so send them an email at [email protected] to chat through all the ways you can make a difference this Awareness Week.