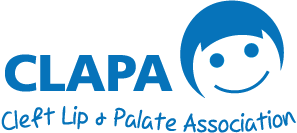 Whether you do your 10k run around your local area in fancy dress, or climb your stairs instead of that mountain, you can continue making a difference from home and help us make the UK a little brighter for everyone affected by cleft.
Here are some of our wonderful fundraisers over the years, at home in their CLAPA vests!
If you are rethinking your challenge, the key thing is to document what you do and provide regular updates on social channels along with your fundraising page link. This could be a livestream of you taking on this challenge, a glistening post-workout selfie, or a screenshot from your fitbit or phone to show everyone how hard you've been working.
Top ideas to get you started:
Obstacle Course: Make it as extreme as you want, and tackle it wherever is safe in your house or garden to do so. Grab objects from around the house to crawl under, hop over, bounce on or run through to get to the finish line. To go the extra mile, you can even set yourself a time in which to complete it!
Stair Challenge: Always wanted to climb up the Gherkin in London or the Beetham Tower in Manchester? Well you can do just that by climbing up and down your stairs and seeing how far you can go! Count your steps using your phone or a pedometer then put your feet up and have a well deserved cuppa.
Scooter Miles: Not a fan of running and have a scooter or bike? See how many laps you can do on your driveway or up your road or even around your local park during your daily exercise. Set your starting line and count how many times you cross the line.
To fundraise: You can set up a Just Giving page or a Facebook fundraising page. This is a great opportunity to share your story about your cleft journey to raise awareness of your fundraising event but also so that we can continue supporting people across the UK.
Looking for more inspiration?
Check out our collection of stories shared with us by our wonderful fundraisers and learn more about the creative ways they've been supporting CLAPA! RunThrough Virtual
If you'd like to get as close as possible to a real race experience, RunThrough Virtual has got you covered! Sign up to a race, complete your run, send in your evidence, and put your feet up for a well-earned rest while you wait for your medal in the post.
If you have any questions or
queries,

 our friendly fundraising team will be happy to help. Just drop them an email at

[email protected]

!