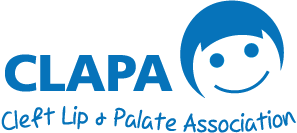 What's one thing you wish everyone knew about cleft lip and palate?
This Awareness Week, we will once again be sharing 'Myths and Facts' about cleft in the UK. In the past, these have been our most-shared posts and have led to some fantastic discussions, raising lots of awareness!
To make these more powerful and to help them be seen by more people, we want to share videos to illustrate these myths and facts featuring people from the cleft community talking about their experiences.
By the end of April, we are asking people in the cleft community to record a short video (1-3 minutes) in which you talk about one of the following:
A myth about cleft you've come across in your life. Maybe someone said this to you, and you had to correct them? Or perhaps it was something you believed before you learned more?
Something you wish everyone in the UK understood about cleft lip and palate
A part of your cleft journey that really sticks out
A 'superpower' you have because of your cleft (or through supporting someone else born with a cleft).
Imagine you had just a minute to explain to someone why they should care about cleft – what would you say? What story would you tell? This Awareness Week, your story can help us make a big impact!
Videos, audio or quotes?
We would ideally like videos of people from our community talking about their experiences to share.
If you'd rather not appear on video, you can send an audio-only file or send a video and request that we use only the audio.
If you would rather write a quote for us to share, you can send this to us in writing. We may have someone from our team read it out so it can be shared as a video.
Send us your Video, Audio or Quote
Recording your Video
It's helpful to make some notes about what you want to say before you start recording; even if you don't reference them while recording, it will help to get your thoughts in order. You may want to write a script, but keep in mind that videos like this always sound better and more natural if you're speaking off the top of your head, so try to stick to bullet points which you can expand on when talking.
We will edit your video, so if you get your words jumbled up or want to try saying something in a different way, just pause, take a deep breath, and try again.
Here are some helpful tips for recording a video at home.
General Tips:
Avoid too much medical detail
When telling personal stories about health, it's easy to get lost in the details. Because this video is aimed at the general public as well as people in the cleft community, try not to go into too much detail about the specifics of cleft lip and palate, and avoid any medical jargon.
Simple explanations like 'My daughter was born with a cleft palate and couldn't feed from regular bottles' get the important information across in an effective, easily understood way.
Focus on emotions
Other people might not understand the specifics of cleft or CLAPA's services, but they'll understand emotions like feeling helpless, overwhelmed, isolated, etc. By focusing on these (if you're comfortable doing so), you're making the story relatable for many more people.
Treat it like an 'advert'
These days, it takes a lot to cut through all the noise on social media and beyond! With these videos, we're trying to convince people to sit down and learn something new about a health condition they might never have heard of. This is no time to be modest about what you might have been through – if you think it's worth their attention, tell them why!
Send us your Video, Audio or Quote
How we'll use what you send us
We may publish it in whole or in part on our YouTube channel, our website, and on various social media channels. We will only ever use your first name to identify you, and you can request to remain unnamed if you wish. Read our full policy.
In order to tell the right story, we may edit your video or recording on its own or together with other people's submissions, though we'll never intentionally change the meaning or tone of what you say. We might add in clips about our services or facts about cleft and CLAPA. Depending on the content of the videos we get, we may decide not to use some of the media submitted, or use only small parts. Content like this is really helpful for us, so even if we don't use it right now, we'd love to be able to use it later on when talking about our services or in future Awareness Weeks.
If you change your mind, we will make every reasonable effort to remove any clips featuring you from our platforms. Please keep in mind that once any videos are published, others may download or share the video beyond CLAPA's control. If you have any concerns about this, please email [email protected].