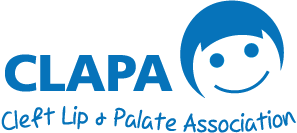 This May, help us make a lasting difference to the people that need CLAPA's services the most. The smallest actions can have a big impact, like telling your story, putting a collection can in a local shop, holding an event, getting your workplace involved in the week, or even signing up to one of our challenge events!
Make a pledge to get involved today and we'll make sure you have everything you need to help us make an impact this Awareness Week.
Read on to find out more, or make your pledge by clicking below.
Tell Your Story
Whatever your connection to cleft, we want to hear your story. Sign up today to write a case study, send in a quote and some photos for us to use, or even to be a local media contact for TV or radio!
"I didn't realise that sharing something like that was actually much bigger than me and [my daughter]. It was for many babies, young and grown, and their parents too. And now I'd like to try and keep doing it. And hopefully that will help me too." – Charlotte

Put Collection Cans in Your Local Area
Just one can at your local newsagent, cafe or pub could raise £40 a year and invaluable awareness for CLAPA.
"We usually have a CLAPA collection box on the reception desk anyway, but for the Awareness Week, we were pushing that little bit harder! The waiting room was decked out with CLAPA balloons and copies of CLAPA news were strategically placed amongst our usual reading material! I'm pleased to say that as a result of our patient's generosity, we raised a total of £175 for CLAPA."

Organise an Event
From a 1,200 minute sponsored digital fast, to a special themed bake sale, we've got 12 big ideas to help you get started.
"Every year I am going to do at least one event for CLAPA to show how thankful I am they supported us and sort of pay it forward to the charity. I am then going to fill in the details of the events and how much I raised in a big book. And then on my brothers 21st birthday I am going to wrap up the book and give it to him for his 21st birthday present."

Ask your School, College or Workplace to Support CLAPA
Check out our '12 big ideas' page for inspiration, and see if you can fit in an awareness-raising talk at the same time.
"In January 2016, I stood in front of over 120 colleagues and told them about Amelia and her cleft and how CLAPA provide such valuable support to families like mine and how I wanted to give something back to them as they are such a small charity. I was hoping to raise £2,000, which would then be matched to give CLAPA £4,000. By the end of December 2016 my colleagues and I had raised £4,229.55, which smashed my expectations so when matched we were able to present CLAPA £8,459.10!"

Challenge Events
You could abseil, run, cycle or walk for CLAPA with our exciting programme of activities – sign up today!
"The support and guidance CLAPA has in place for parents and children born with these conditions is amazing. I feel so moved and privileged to run the London Marathon for them. It is obviously so close to my heart and I am running for all the families out there who have been through or are about to go through the Cleft journey!"
Another Idea
There are so many ways to help us make a big impact this Awareness Week – if you've got your own idea, get in touch using the form to have one of our team get in touch and find out more.

Make Your Pledge