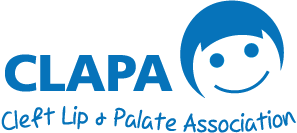 CLAPA's Annual Conference
CLAPA's Annual Conference is the only event of its kind, bringing together parents, patients, health professionals and everyone with an interest in cleft lip and palate on an equal footing to discuss the issues that really matter to them.
We try to move the venue around the UK every year to give everyone in our community a chance to attend, but for those that can't make it in person we also film and livestream the entire event.
A full sit-down lunch is provided for all delegates, as well as several servings of tea and coffee. CLAPA subsidises ticket prices, and under 18s are always FREE!
CLAPA Conference 2015 – 21st November, London
Our 2015 conference was our most ambitious yet, with displays from our Branches around the UK, discussion groups, and so many speakers crammed into one short day! The theme was 'Taking Control', and was all about how stepping forward to play an active role in your or your child's care can benefit people in unexpected ways.
Our 2014 Conference was all about 'The Patient Voice' and how much CLAPA and the NHS value both patients and parents coming forward to give their feedback at every stage of the care pathway. We also heard from other organisations about how they were involving their community in their work and what a positive impact it can have.
In 2015, we wanted to take a step back and look at the very different reasons why some of our volunteers decided to take control and make their voice heard in what can sometimes feel like an intimidating medical environment. We heard from young people making a difference in the NHS, adults at various stages of treatment who have taken control of their care, and parents who have been driven to speak up for their children and others like them.
Watch the videos on our Vimeo page
Feedback from this year's event included:
"So many young people spoke – they're the future generation who will lead CLAPA!"
"The atmosphere – positive and inspiring!"
"Loved the inspirational speakers & getting to meet new people."
"This year's programme was well-balanced and very engaging."
"Well-presented, concise day."
"Fabulous, inspiring and thought-provoking conference."