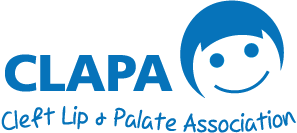 Cleft Lip and Palate Awareness Week takes place in May each year.
In 2016, it will run from 7th to 14th May – make sure you've joined the CLAPA Community to get information and updates on how you can get involved closer to the time.
Awareness Week is a chance for the CLAPA Community to spread the word and educate the general public about a condition that is still not very well known. Even though three babies are born with a cleft every day in the UK, many people haven't heard of the condition, don't know what it means, or still use outdated and offensive terms to talk about it.
With your help, we can raise awareness of cleft lip and palate as well as vital funds for CLAPA, and we can make ignorance about cleft a thing of the past!
"CLAPA benefits thousands of families affected by cleft lip and palate every year and needs funds in order to survive and continue providing vital services. I would encourage as many people as possible to help out during Awareness Week."
– Carol Vorderman, CLAPA's Patron
Fundraising
CLAPA is a small charity with no government funding, and we rely entirely on donations and grants from generous members of the public to continue with our work.
Every year, the CLAPA Community comes together to put on a wide range of events, from cake sales at work to huge sponsored walks that take over parks! Our fundraisers dig deep to complete marathons, host fun days and even put on spectacular balls that can raise thousands of pounds.
The CLAPA Fundraising team organises Sponsored Walks all around the UK, from Brighton to Derry, and last year nearly 600 of our supporters joined in the fun. Why not join us this year? The entry fee is £5, but there is no minimum sponsorship requirement and each walker gets a free t shirt. These simple and family-friendly walks are the perfect chance to meet others locally who are affected by cleft, and with the locations we've picked the scenery isn't bad either!
Raising Awareness
We want you to use Awareness Week to make CLAPA and cleft lip and palate as visible as possible in your local communities. Whether you can put up a few posters or use the opportunity to tell your personal story to friends and colleagues, every little helps!
In the past, our supporters have given talks in schools and colleges, organised huge events to engage their local community, and used Awareness Week as an excuse to start conversations about cleft.
Many of our supporters also share photo collages showing the reason they're supporting CLAPA, like this one below. We love to see these, so please do keep making and sharing them with us!