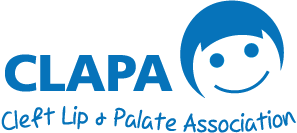 CLAPA has two main pots of money we use to fund our work. They are:
CLAPA National Fund: This pays for the day-to-day running of CLAPA as a charity, including feeding equipment, the production and delivery of information including our website, booklets and phone line. It also funds recruiting and training volunteers and Parent Contacts, as well as representing the interests of people affected by cleft nationally, both in health services and research. This pot helps to support CLAPA Branches and our support groups and councils, including Adult Voices and the Children and Young People's Council.
The Regional Fund: This pays for all the local events and activities that our volunteer Branches and Happy Faces Groups run across the UK.
These events provide the cleft community with new friendships and a hub of local support as well as helping to raise essential fundraising and awareness of CLAPA's work.
The Regional Fund was set up in 2013 for a number of reasons, chief among them being we wanted all the money being raised locally to be spent instead of sitting in bank accounts, and we wanted to be able to support local activities in places where there wasn't much fundraising. This means that a new Branch can get started with organising events straight away without having to worry about raising the money for it first. We know that some areas are more active than others, but this shouldn't stop anyone from being able to get the support they need.
Find out how to apply for funding.

What about fundraising?
Most people choose to fundraise for CLAPA National, which represents our National Office and staff.  We could not survive as a charity without generous donations and dedicated fundraisers raising money for us nationally.
You can, however, choose to fundraise for the Regional Fund. Anyone providing local support (such as Branches and Happy Faces groups) can apply to this fund to put on local activities like Christmas parties and other meet-ups, and essentially this will be what pays for all the wonderful things that Branches do. This fund, and all the things it pays for, is supported by CLAPA National and our staff.
Some people choose to raise money just for one fund, others choose to split their money 50/50 so that everyone can benefit from their hard work. It's entirely up to you – just make sure you let us know so we can put the money in the right place!
Can I raise money exclusively for my local Branch?
That depends – do you know what you want the money to be used for? If you have a specific purpose in mind for the money, then we're happy to restrict it, but that means it can only be spent on that particular activity or piece of equipment, so you run the risk of tying up your donation for some time if not all of it is spent straight away. This also creates a lot of administrative work for National Office, which costs money.
If you're very keen for the money you raise to help your local Branch, remember this – there is more than enough money available in the Regional Fund for any and all activities and events the Branches usually put on, and unless a request for funding goes against CLAPA's policies (e.g. it doesn't provide a clear benefit for people affected by cleft, it could be paid for by the NHS), it will almost certainly be approved by the Grants Committee, especially as the largest group represented in this Committee are be Branch Reps.
By raising money for the Regional Fund, you will be ensuring that your local Branch has all the funding they need readily available and that CLAPA is able to reach out to other parts of the UK without local support and give them the help they need. By raising money for CLAPA National you are ensuring we can survive as a charity and that all these regional services are supported.

Please get in touch with us about this if you have questions or want to know more about how it all works.