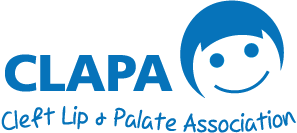 Applying for Funding
Have a great idea to support the local cleft community but don't have the funds? You've come to the right place!
CLAPA's income is split into two funds.
The first, CLAPA's National Fund is used to pay for all our core services around the UK, including our feeding programme, volunteer training, information & literature and the website.
The other is the Regional Fund which is used to support all our wonderful volunteers and Branches to put on activities locally and provide medical equipment like breast pumps for new mums. The Regional Fund is filled up by Branches, groups and individuals around the UK working hard to raise money, but anyone already involved with CLAPA can apply to access these funds to help them put on an event or provide some other kind of support service.
Christmas Parties, family days, picnics, Happy Faces Groups and more are all supported by funding from the Regional Fund – and it could be open to you too!
You can apply if you are one of the following:
Branch Committee member
Happy Faces Coordinator
Children and Young People's Council Member
Adult Voices Member
Trained Volunteer
Parent or Peer Contact
CLAPA Staff
NHS Cleft Service member (must be supported by a CLAPA Branch or Staff Member)
We're looking for events or projects that can provide local support to people affected by cleft, increase the diversity of CLAPA's membership, raise awareness of cleft, and/or improve the care provided by the NHS Cleft Teams.
If you've got a great idea that just needs funding, you've come to the right place!
How to Apply
To apply for funding, you need to make sure you know the following:
What exactly is this project? If it's an event, make sure you know all the relevant details like dates and times, and if it's something a little more long-term like a group, describe what this group would do.
Why is your project needed? Maybe there's no support groups in your area, or maybe you've heard from a number of other parents/patients that they'd really love an event like the one you've got planned. Whatever the need, make sure you can explain to us exactly who it will benefit and how.
How much will it cost? To get funding, you'll need a budget which takes everything into account. If you're not sure, try contacting other people who have done something similar such as Happy Faces Group organisers or Branch Committee Members.
You can apply for funding using our application form:

Regional Fund Application Form (.xlsx file)
If you would like to have an informal discussion about your application, please contact the Regional Coordinator for your area or Itunu Ajeigbe, Finance Manager. Visit CLAPA's Staff page to find the contact details you need.